Should I try YP Dine?
In the 1990s it was common practice for Canadians to locate business information in a very inefficient way– reading a giant book that was updated every year. This was a pretty good money maker for advertisements and made sense at the time– if a business wanted to be noticed by the public it was affordable to submit a listing. These days? If a website existed with a bunch of businesses listed in alphabetical order it would likely be considered spam. YellowPages still sells ads suggesting they can help small businesses using Google's Pay Per Click platform littered across their website, with some services echoing Wix and SquareSpace but without the niche reliability of a web development company.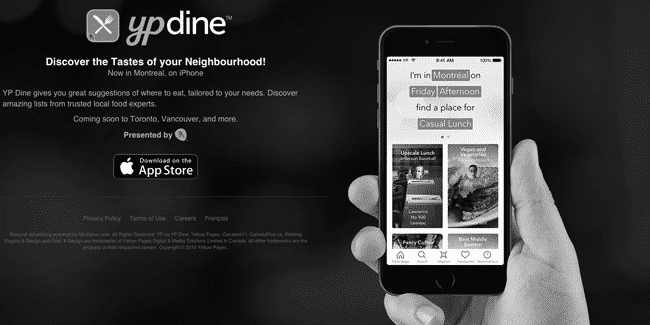 Selling for the 90s
The pricing for Yellow Pages Dine service comes in three tiers that are advertised as "fitting your needs and and grabbing control of marketing costs" but the reality is that these services can often break brands and ruin SEO efforts in the future when business grows enough to afford a real website. YP Dine is a service not a product and once you stop paying monthly fees your website no longer exists. YellowPages owns the code and all of the content.
What is the YP Dine Cost?
The pricing structure for YP Dine Services as of 2017 is as follows:
| Starter | Standard | Premium |
| --- | --- | --- |
| $150 per month | $275 per month | $425 per month |
| Enhanced YP Listing | Enhanced YP Listing | Enhanced YP Listing |
| Newsletters and Contacts | Bookenda Bronze | Power Rank |
| Bookenda Bronze | OrderHub | Dedicated Agents |
| Responsive Site Themed | Social Media Connect | Virtual Tour |
| No Custom Design | Call Tracking | Responsive Site Custom |
| No Online Ordering | Photoshoot | Social Media Connect |
Red flags for Deliverables

One of the most difficult aspects of selling SEO is communicating honest, transparent objectives that do not mislead client expectations. In the case of old school SEO marketing the promise of page 1 was the traditional method of confusing consumers into buying a product they did not understand. Google recommends vetting an organization before hiring an SEO and provide alternative strategies should results not meet expectations. It is also important to set benchmarks by performing a proper technical SEO audit.
Unfortunately there is no explanation for what power ranker is. 
Yearly Total for renting a YPDine website
Approximately $5,000 per year for "Premium" without owning a website.
Approximately $3,500 per year for "Standard" without owning a website.
Approximately $1,800 per year for "Starter" without owning a website.
What are some solutions?
Still on the fence? We list a bunch of alternatives to YP Dine that may better suit your business, or request a quote for a custom website that you will own forever. While WYSIWYG services can provide ease of use, the long term losses associated with ongoing costs to SEO can be detrimental for the growth of any small business.